Welcome to Montana's Flathead Valley! This stunning area is truly "Nature's Playground". Nestled in the heart of the stunning Rocky Mountains, Flathead Valley is a breathtaking destination that offers an unparalleled blend of natural beauty, outdoor adventures, and charming small-town hospitality. With its picturesque landscapes, pristine lakes, and towering peaks, this region is a haven for outdoor enthusiasts and those seeking a tranquil escape from the hustle and bustle of everyday life. It's close proximity to Glacier National Park, boasting awe-inspiring glaciers, rugged hiking trails, and an abundance of wildlife, draws visitors and locals alike.
The Valley consists of many smaller communities including Kalispell, Bigfork, Whitefish, Columbia Falls, Somers, and Lakeside.
Kalispell serves as the major commercial and cultural hub of the region. It is centrally located in the Valley and is home to major shopping, restaurants, and a revitalized downtown area featuring historical buildings, unique shops, and galleries. In addition to the iconic 1800s-era buildings in downtown Kalispell, highlights include the Conrad Mansion, the Hockaday Museum of Art, Buffalo Hills golf course, and the Rails-to-Trails biking and walking paths, along with many local breweries, restaurants, and coffeehouses.
Bigfork is a charming town nestled along the Swan River and Flathead Lake, the largest freshwater lake west of the Mississippi River. It offers a peaceful and picturesque lifestyle and features world-class art galleries, restaurants, live theater, and wonderful shops, along with an award-winning 27-hole championship golf course, offering something for everyone. Outdoor lovers enjoy hiking, camping, skiing, snowmobiling & much more! A wide range of water activities to choose from including swimming, sailing, wind surfing, canoeing, fishing, wakeboarding, water skiing, and paddle boarding. Or hike the nearby Jewel Basin Hiking Area to explore mountain lakes and valley vistas.
Lakeside and Somers are on the west shore of beautiful Flathead Lake and are quintessential lakefront communities. You have access to boating, swimming, wonderful restaurants, and breathtaking views of the Swan Mountains over the lake. Lakeside offers downhill and cross-country skiing in the winter at Blacktail Mountain Ski Area, making this a year-round destination.
Whitefish is home to the spectacular Whitefish Mountain Ski Resort, known locally as "Big Mountain". It also offers summertime fun at Whitefish Lake and the Whitefish Lake Golf Club. This quaint railroad town boasts boutique shopping, casual and fine dining restaurants, a vibrant night life scene, along with hosting numerous events and festivals throughout the year.
Known as the Gateway to Glacier National Park, Columbia Falls is a thriving town on the edge of the Flathead River. It's only 15 minutes from the entrance to West Glacier and a short distance from Hungry Horse Reservoir. It also boasts a great golf course!
There is so much to offer in the beautiful Flathead Valley! It is a wonderful place to call home. The good life is alive and well in Montana!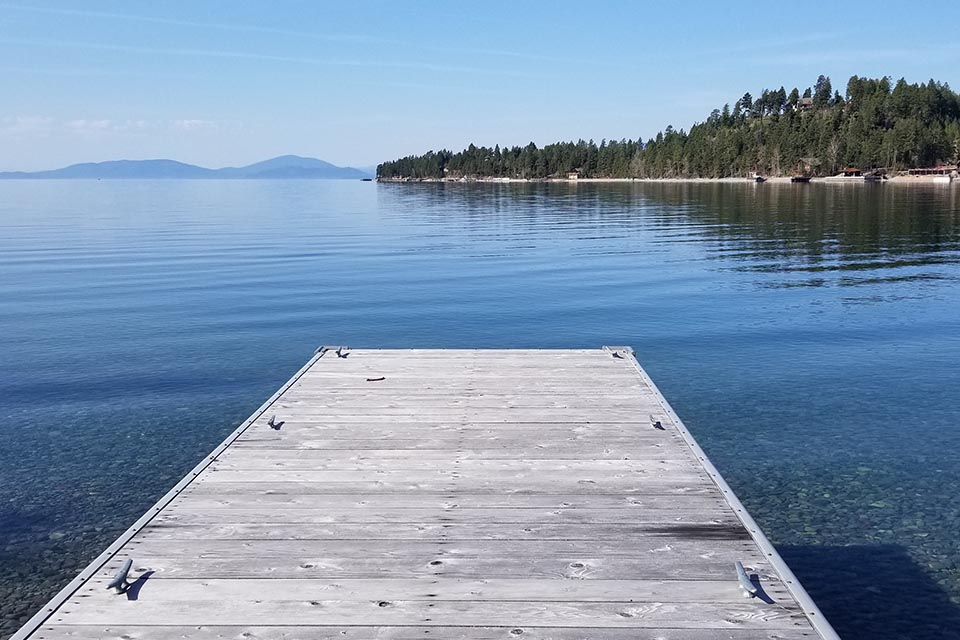 Raven - Woods Bay Live Cam